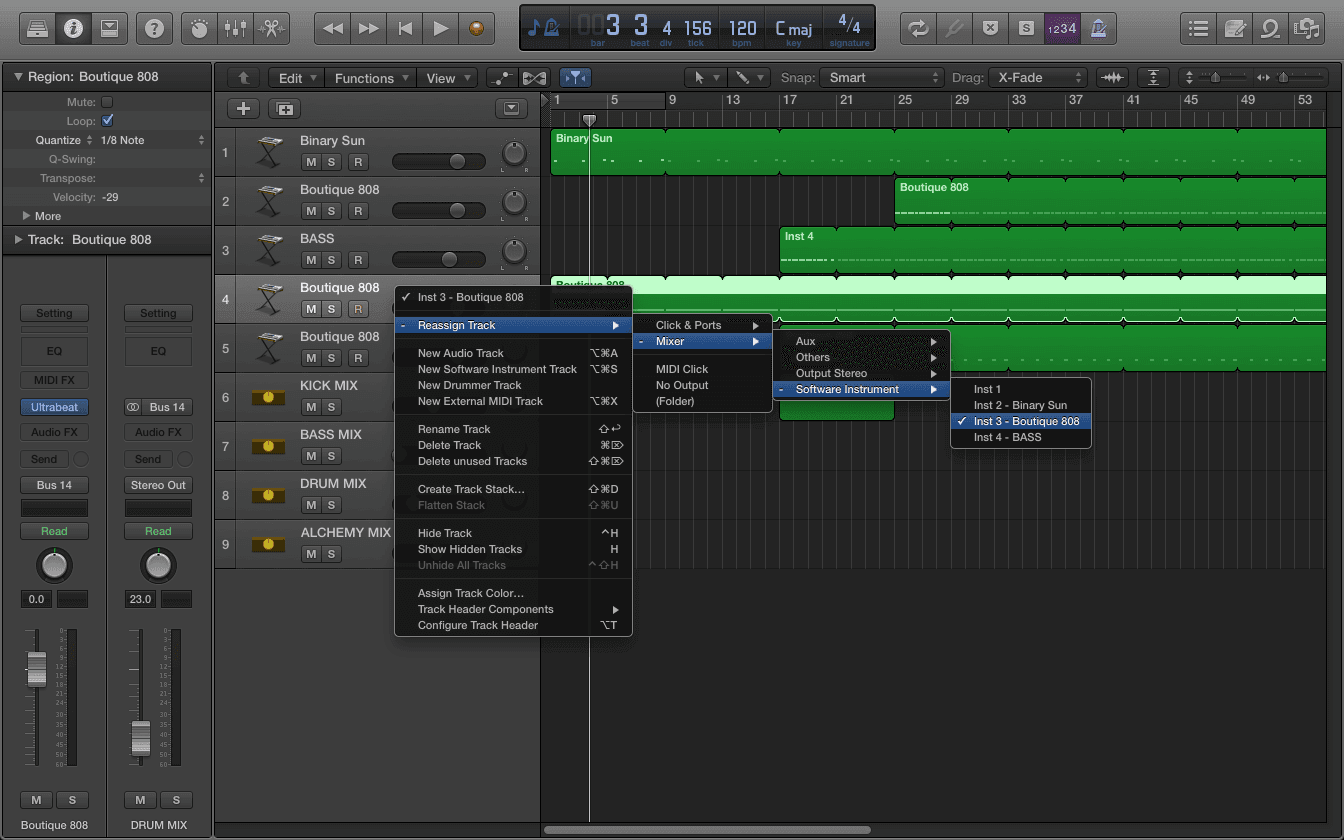 5 Useful Workflow Tips for Logic Pro X
Logic Pro is great. It's even better when you're armed with some killer workflows!
1. Bounce In Place
This one helps you commit to your work and move on to the next stage in your project whilst actually helping  conserve your Mac's computational resources.
When you are happy with a particular MIDI region, simply ctl+click (right click / secondary click) on it and select Bounce In Place to render it down to audio.
As well as helping you to commit to your work and move quickly, rendering MIDI parts helps open doors with regard to processing audio-only effects like time-stretching and reversing. I also prefer to be looking at audio waveforms rather than MIDI clips in my arrangement window.
2. Stacking MIDI FX
I'm always banging on about this one. MIDI FX are much like audio units, instead they distort the MIDI information going through the synth before it becomes audio, as opposed to distorting the audio signal coming out of the synth itself. A really cool example of this would be a Chord Trigger going into an Arpeggiator, allowing you to play an arpeggiated chord by simply holding down a single note on your MIDI keyboard.
3. Smart Controls
I nearly left this one out as I don't use it often, but I know it's very useful to many. Smart Controls simply looks at your channel strip and collates a handful of useful parameters from your sound generator (synth) and the effects loaded in the channel strip. It then features those controls in a user-friendly interface like pictured below.
There is way more you can do with Smart Controls, giving you the flexibility to customise the interface and mapping your controls to external MIDI sources. I highly recommend having a look at official Apple documentation regarding this feature.
4. Freeze Tracks
Nothing disturbs workflow like your Mac suffering playback issues because it's trying to crunch too many numbers at any given time.
Logic Pro's Freeze feature simply renders that track's MIDI information to audio, which is then stored in the memory to conserve processing power.
This is much like the Bounce in Place feature discussed earlier in this article. The main difference being that it renders the entire track to audio as opposed to a particular MIDI region.
Please note you will not see this audio in the arrangement as it has not yet been printed to disk.
Make sure to configure your track header to include the Freeze option as depicted above.
5. Reassign Tracks
Last but not least.
This is very much a legacy feature which I have been using for years and  Logic Pro has been updated many times since I started using this. Some of you will respond to this, advising me that there are more modern methods but i'm kind of stuck in my ways. I'm sure a lot can be said for a similar, more modern approach.
Example:
I load up an Ultrabeat (Track 1) and record a MIDI kick drum part.
I double-click underneath that track header, creating a new track (Track 2), but I reassign that track header to the same track as my Ultrabeat (Track 1), giving me another MIDI lane in my arrangement for me to lay down a hi-hat line.
I now have two lanes for the same track!
Thanks for checking out these tips.
Also, don't hesitate to ask me anything. I have been using Logic Pro for many years and I am even Apple Certified.
#unlockyoursound